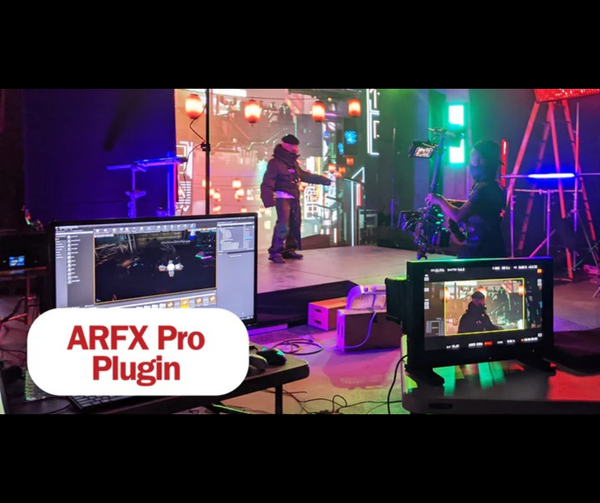 Update: ARFX Pro Plugin receives dozens of new features
Following two years of research and development, we're pleased to announce the latest set of updates to our flagship software tool, the ARFX Pro Plugin for Unreal Engine. We've consolidated all settings from the Unreal Editor to streamline virtual production workflows, requiring no coding or programming knowledge to operate, meaning creators from all backgrounds can elevate their productions.  
The motivation for these changes was to save time and production costs while producing AAA-quality content. End-users can now adjust and save all their settings in-game, without needing to exit into Unreal Editor. The ARFX Pro Plugin also contains the following features and updates: 
Post Process

: temperature, tint, saturation, contrast, gamma and gain.

 
ARFX Camera Options

: tracking, movement speed, yaw/pitch speed, screen dimensions, near clip distance, and bookmark transition speed.

 
Graphics

: This section gives you greater control of the scene's overall quality settings, including quality Preset, where you can adjust the quality of all graphics and textures settings.

 
SteamVR Setup

: hero serial, calibration serial, tracking delay, threshold sample size, and velocity threshold.

 
Keyboard Input

: navigate preset camera positions, pan, tilt, dolly, roll or boom, instant access to the calibration menu, and manually adjust the depth of field of the virtual camera.

 
XBOX Controller Input

: pan, tilt, truck, dolly, roll, or boom the virtual camera, Position and save new camera positions instantly, and customize keyboard hotkeys and controller layout.

 
Display Settings

: resolution scale, display mode, resolution, gamma, v-sync, max VPS, and max FPS.

 
Texture Settings

: anisotropic filtering, and adjusting the quality of textures.

 
Graphic Settings

: post-processing, anti-aliasing, shadows, effects, detail mode, foliage, view distance, motion blur, and planar reflections.

 
ARFX Pro Plugin provides both affordable and quality solutions to work on high-end film, TV productions, and live streams that can go for 12+ hours. We've used this technology on a variety of projects, from Disney+'s Muppets Haunted Mansion, to smaller indie productions like the Star Wars fan film Legacy of the Mandalorian, showing that this is truly a tool for filmmakers of any level.  
Want to know more about the ARFX Pro Plugin? Check out the product page.