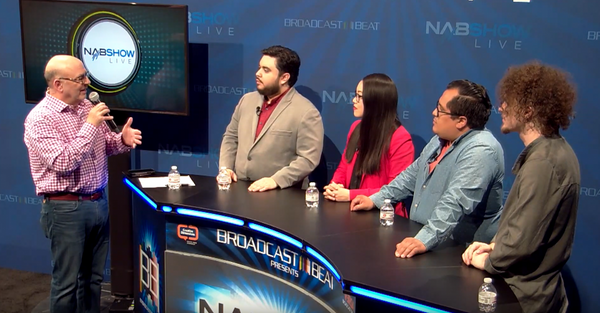 ARwall Interview at NAB 2019
How green screen studios are being replaced by AR, and the future of experiential marketing.
This year, the ARwall team had the pleasure to take the stage with the National Association of Broadcasters (NAB) Show Live and host Brian Seth Hurst to discuss how integrated technology has changed the filmmaking landscape.
This in-depth interview covers everything from the origin of ARwall's proprietary technology, the wide range of benefits of using ARFX on set which is leading to the end of green screen, winning Best New AR/VR Startup at SXSW, and how this same technology is going to change the world of experientials both as entertainment and in marketing.
The full broadcast here: AR Wall CEO Rene Amador
NAB SHow Live host, Brian Seth Hurst pictured with Rene Amador (CEO), Jocelyn Hsu (CPO), Eric Navarettee (CMO) and Will Hellwarth (CIO) (left to right)
Aside from our speaking engagements, we garnered a lot of interested on the convention floor where we showcased our products ARFX and AR3D.
ARFX (featured in the below video) is ARwall's green screen studio replacement, which with proprietary technology, provides photo-real environments of any size that adjust perspective to give the camera [or viewer] the illusion of a 3-dimensional world–utterly indistinguishable from reality, and superior to green screen in terms of filmmaking process and cast & crew on-set collaboration.
AR3D is ARwall's new experiential technology that is taking branding, marketing, and major venues & stadiums by storm. Built on the backbone of ARFX, AR3D provides an immersive augmented reality environment that blurs the lines of reality to audiences, and is interactive in every way–all without goggles or a physical controller.
ARwall CEO, Rene Amador, was interviewed by Epic Games in a segment where we discussed how real-time engines are paving the way for the next generation of filmmaking.
As we continue to explore the uncharted territories of virtual production and interactive experiences, we're always excited to share our journey with you. Follow us on social media to stay up to date with our latest developments!