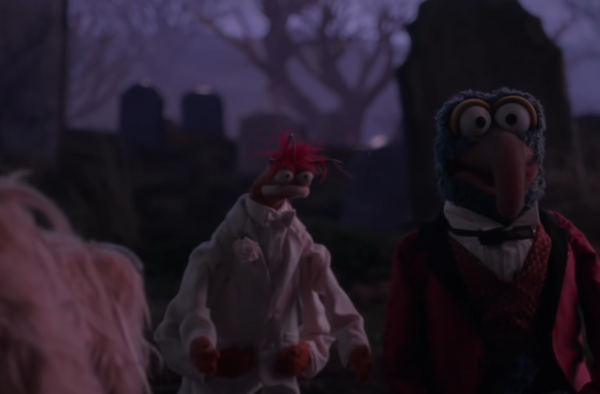 Muppets Haunted Mansion's most stunning sets were virtual LED backdrops by ARwall
Summary: Disney's Muppets Haunted Mansion's most stunning setpieces were virtual backdrops created by ARwall and a small team of virtual artists using some of the most advanced XR filmmaking techniques available. ARwall calls the affordable virtual stage that made it possible The Cuboid powered by ARFX, a vision of things to come for projects that want to deliver blockbuster results without the associated pricetag.
"The Muppets and ARwall are a perfect fit," says Rene Amador, Co-Founder & CEO of ARwall, "We're very lucky the studio and filmmakers believed in us, involved us early in development as the script was being written, and gave us free reign to educate the other dept heads on how moving to in-camera LED effects was going to change their workflow. As filmmakers ourselves, we worked with Kirk Thatcher the director to make sure all depts were on board, and I think it shows in the frame."
ARwall calls the resulting virtual stage at Soapbox Films that was built for the show The Cuboid, because of its rough resemblance to a cube. The equipment included a primary 20.5'x11.5' LED "main wall" using Ledman COB M series 1.5mm pixel-pitch LED panels; two 15'x10' sidewalls; a 20'x15' ceiling; and two 20"x40" mobile walls with Absen VN 8mm panels for additional lighting. The main wall appeared on camera compositing the virtual sets with the actors and setpieces, while the 5 other screens provided immersive lighting and reflections that shift according to the needs of the scene. Need a quick dash of lighting for a spooky moment? It's just one keystroke away. Delivering the real-time visuals for all the 6 screens was a single powerful ARFX Pro server running Unreal Engine; controlled by keyboard, gamepad, and Midi board
The sets themselves were a collaboration between four teams: ARwall, Dastoli Digital, Allucinari, and the production designer Darcy Prevost's team of seasoned set designers. Special attention was given to weave in a spate of easter eggs to satisfy the most die-hard fans of both The Muppets and Haunted Mansion, some of whom happened to be on the actual team designing the environments in blissful glee.
Image Caption (Burbank, April 2021): ARwall's team in front of The Cuboid getting ready for Gonzo and Pepe to meet the Caretaker in the cemetery.
The collaboration didn't end there, as the unique needs of The Muppets performers, the pandemic's new concerns, and the speed of film production required ARwall to build entirely new toolsets specifically for the production. The result allowed virtual production to be used in nearly every scene, filling in the halls, rooms, and mysterious grounds of the familiar Haunted Mansion.
"We found that the usual method for changing and saving a scene while playing weren't a fit for the speed of production, so we coded a workaround that allowed us to make changes to a scene while it was still active," says Jocelyn Hsu, Co-Founder & Chief Product Officer at ARwall, "The big revelation on this show was moving the tools into the real-time engine itself, and out of Unreal Editor, to get the best performance on set."
Together, Rene & Jocelyn served as Virtual Production Supervisors on the production, orchestrating the flurry of technicians, artists, and equipment required to achieve real-time effects for a studio with expectations as high as Disney's. ARwall, and the cutting edge tech behind it, has been the brainchild of its founders for nearly 5 years, beginning as an experiment in a kitchen that eventually became ARFX, a suite of real-time tools developed natively for using real-time in-camera LED effects in scripted filmmaking.
"An emerging tech like this needs a team that is crazy enough to be working on both the technical and creative sides of it, that's ARwall.  Our model is to create jaw-dropping results, then release the tools we built for others to use on their own productions," says Rene. The ARFX Pro plugin for Unreal Engine that ARwall used on The Muppets is available now in early access online at ARwall's site: https://arwall.co .
Muppets Haunted Mansion is available to stream now only on Disney+, currently sitting atop a 90% score on Rotten Tomatoes, sure to become a Halloween classic that fans will enjoy for decades to come.