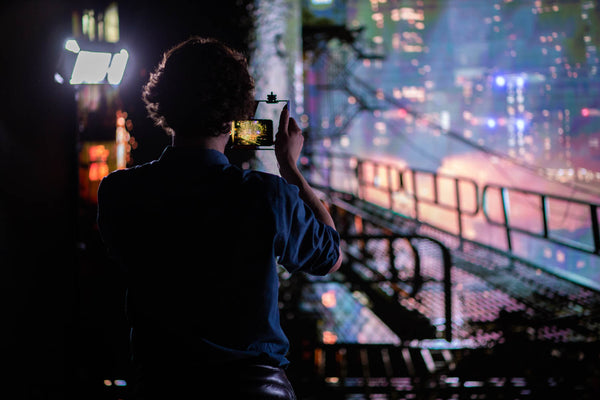 ARwall & Verizon 5G — Real-Time XR Innovation
We are proud to announce our partnership with Verizon 5G Labs—a branch of Verizon Wireless dedicated to modernizing our approach to data and real-time streaming through their lightning-fast 5G Networks. At ARwall, we see 5G edge being a crucial component of democratizing virtual production, by pushing expensive graphics and spatial processing into data centers that power our professional, home, and interactive retail experiences.
The 5G Labs feature live demonstrations, product testing, and use-case research that speaks to the immense potential of 5G to transform recreation. Users will be able to demo ARwall's most recent XR products: ARFX Home Studio, ARFX Launcher, ARFX Starter Scenepack, ARwall Interactive, and AR3D.
In the Verizon 5G Lab in LA, you can visit the Advanced Content Production Stages—and among them, a 4KTV "mini virtual stage" mockup powered by ARFX Home Studio. Using a beautiful 82" consumer 4KTV as the display, this all-one-kit comes complete with the hardware, tracking, software, and 100+ cinematic real-time backdrops to generate XR in-camera effects on any camera. Included is a smartphone or hot shoe mount that visitors can affix to their phones or cameras. For those users that can't wait to bring this capability to their home, studio, or media lab; ARFX Home Studio is available for purchase online now.
Visitors will also have an opportunity to demo the prototype experiences for the ARwall Interactive kiosk, including our interactive videowall platform that launched in 2020 in partnership with M&Ms World / Mars. That platform, powered by our standalone AR3D software, won the CES 2020 DreamlandXR prize for "Best AR Experience," with its head tracking window illusion touted as a touch-free gateway into XR and the metaverse.
Outside of LA, you can find ARwall Home Studio demos on display in the Verizon 5G Labs of New York and Boston. We hope you get a chance to visit our demo exhibitions, and we look forward to being a part of the 5G experience as it rolls out across more cities nationwide.
Sincerely,
The ARwall Team