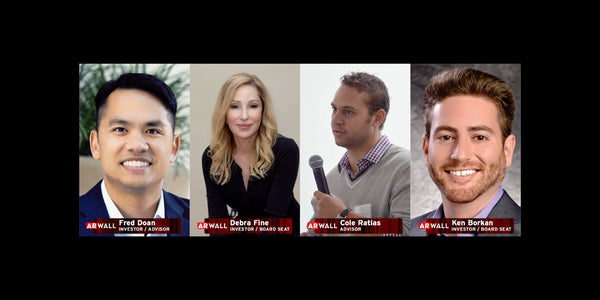 ARwall launches strategic growth plan for 2023
ARwall has recently completed a successful new round of funding. This significant investment will empower us to expand our business and introduce new and exciting products within the realms of SaaS, mobile, cloud, and AI. The expansion comes on the heels of our team's recent patent wins, which have further solidified our position as pioneers in the field of Virtual Production.
We are also pleased to announce our strategic partnership with DoubleVision, a renowned mobile app developer based in San Francisco. This partnership represents a shared vision for the future and will enable us to collaborate on groundbreaking advancements in mobile, cloud, and AI solutions.
New investors
We have welcomed a distinguished group of investors to ARwall, who share our passion for innovation. 
Among our new investors are:
Tech Coast Angels Los Angeles' Fund III, Debra Fine — investor, philanthropist, and former President at Digital Domain.

Jason Moskowitz — investor and partner at Radar Pictures and Edge Case Capital Partners.

Fred Doan — former executive at TubiTV and Xumo.

Ken Borkan — former executive at the NBA's Phoenix Suns.

Alla Aizenberg of RealTech Investments

Dev Chanchani of XIP

Anthony Gellert and Bob Baumann Jr. of Livingston Ventures. 
Their support and expertise will be instrumental as we continue to drive XR filmmaking technology into new markets, including education and corporate micro studios.
Alongside this investment, we warmly welcome key appointments to our advisory board, further bolstering our plans for growth and development. Fred Doan, with extensive experience in Marketing and Sales, and Cole Ratias, CEO of DoubleVision, specializing in Mobile and Growth, will join esteemed industry veterans Allison Dollar and John Canning on our advisory board.
With the infusion of new funds, we're expanding our product line and introducing new standalone Virtual Production tools and features for content creators. The endorsement of industry experts further cements our status as trailblazers in special effects and Virtual Production, and we look forward to sharing the forthcoming announcements that will showcase the incredible innovations we're working on for 2023.
You can also read this story in Advanced Television, Production360, Lighting & Sound America and British Cinematographer.
Head to our product index to learn more about our latest advancements in Virtual Production tools.