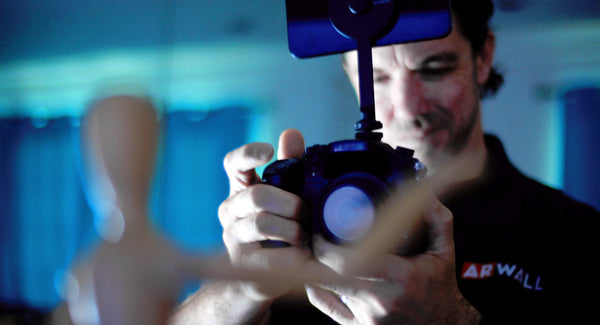 ARwall & DoubleVision partner to deliver patented smartphone indie virtual production
ARwall and DoubleVision's patents extend to applications for virtual production in professional soundstages, at home, or even in retail locations where blockbuster effects can be driven through a visitor's phone. 
Los Angeles – Sept 1, 2023 – ARwall, an award-winning leader in XR filmmaking, has signed a strategic partnership with SF-based app developer DoubleVision to revolutionize the  sector by bringing accessible in-camera virtual production (VP) to indie creators at home and in small studios. With the launch of their prototype consumer VP solution, ARFX Launcher, and the forthcoming ARFX App (announced at NAB Show 2023), ARwall empowers talented filmmakers to achieve stunning in-camera effects using as little as their PC, smartphone, and connected TV.  This addition to ARwall's wide range of products extends the company's offering to consumers for the first time, making virtual production easy and affordable for a broad international creator class by eliminating the need for expensive hardware traditionally associated with the process. 
Mobile tracking support for iOS and Android devices is available with ARFX Pro Plugin now: https://arwall.co/products/arfx-pro-plugin
ARFX Pro Plugin - custom mobile tracking code (test shoot, July 28, 2023) 
ARwall's custom tracking code and real-time Options Menu turns the modern smartphone into a device capable of delivering professional grade tracking and backdrop control. 
DoubleVision's History 
DoubleVision has typically focused on adapting desktop SaaS models to mobile ecosystems, boasting 4 #1 Apps on the iOS app store as early mobile pioneers, and winning a broad and robust patent portfolio for wide-ranging products across media and security. Originally founded as a software app developer, the company's focus has since shifted to partnering with disruptive industry-making companies like ARwall, to provide critical development and ASO support, as well as strategic IP defensability for expansions into mobile, cloud, and AI. 
"We are excited to bring the same tools provided to Disney and Netflix to everyone with an iPhone and beyond!, says Cole Ratias, CEO of DoubleVision and new advisor to ARwall, "And soon with our patented AI tools, creators will be able to instantly generate entire backdrops, animations, and more." 

Partnership Purpose and Scope 
In light of their aligning goals and complementary backgrounds, DoubleVision's CEO Cole Ratias has also joined ARwall as an advisor, and the company has licensed its patent portfolio to ARwall. By partnering with DoubleVision, ARwall will be free to focus on shepherding fundamental aspects of the virtual production cinematic process as it moves into a mass market technology. Together the partners haveestablished a strong foundation to innovate within the larger creator community of 500 million and growing on platforms where those creators can already be found, and on hardware they already own. 
"Filmmakers around the world have been waiting for a virtual production solution that's finally affordable and relevant to them, something we've been working on for 7 years now as pioneers in XR filmmaking," says Rene Amador, CEO and Co-Founder of ARwall. "To tackle this, I believe DoubleVision is the ally we and creators have been waiting for, bringing expertise and key patented innovations that will be critical to any virtual production or real-time filmmaking solution that is hoping to gain mass adoption for pros and consumers alike." 
The first fruit of the collaboration is released, beginning with initial support in the ARFX Pro Plugin, a solution for under $200 that brings creators anywhere the technology usually relegated to ARwall's major studio clients like Netflix, Disney, Warner Bros Discovery, HBO, NBCUniversal, CBS, 20th Century Studios, and more.  
About ARFX the Original In-Camera Effects Virtual Production Solution
ARwall's new ARFX product line, which includes ARFX Launcher, ARFX App, and ARFX StudioBox, is the indie-friendly version of the popular professional ARFX Pro line launched in 2017. All will support mobile tracking imminently, both iOS and Android. ARFX was built from the ground up by filmmakers for filmmakers to pick up and start shooting within an hour the first time, featuring all controls and virtual production features integrated into the Options Menu, similar to a video game's Settings menu. 
The ARFX Launcher is a powerful and user-friendly tool for easy entry into the world of in-camera effects virtual production, which combines live action actors with CG elements displayed live on a physical screen. With 10 Unreal Engine 5 maps included, this launcher works seamlessly with any 4K screen or projector, offering an affordable option for indie filmmakers wanting to experiment with virtual production but who might be intimidated by developer tools like Unreal Editor. ARFX's graphics are powered by Unreal Engine 5, but unlike existing tools on the market, ARFX requires no programming or 3D design skill to achieve blockbuster-quality effects. 
The ARFX App, currently in closed Beta and launching in late 2023, serves as a standalone tool and incorporates an online marketplace for downloading professionally lit scenes, calibrating your system in 1-click with our patented XR SYNC calibration. Filmmakers can select, customize, relight, and recolor their scenes by adjusting simple slider settings within the app and scene itself. 
The launch of mobile tracking this summer, coupled with imminent cloud rendering support in the ARFX App, will be the culmination of a broad product ecosystem rollout that ARwall's team began in 2020, focused on allowing creators to enter the realm of virtual production without the need for specialized hardware. By leveraging the power of their smartphones and TVs, filmmakers can tap into the creative potential of in-camera effects. By leveraging the power of cloud-rendering, filmmakers use ARFX to gain access to powerful real-time rendering farms near their location, with latency equivalent to a locally rendered image. 
"Moving the virtual production toolset completely to the cloud means creators won't be limited by the processing hardware they can afford to buy," says Leon Hui, Co-Founder and Chief Technology Officer at ARwall, "Their phone will be a device that controls virtual worlds that are rich and responsive with very few creative limitations. It's exciting to be at the cutting edge of deploying these tools to creators around the world." 
Summer 2023 Deals Promotion 
To celebrate, ARwall also introduced a special summer offer. Buyers will find price reductions on the ARFX Launcher and ARFX Pro Plugin software, and more flexible hardware options, ensuring that access to these specialized systems is not an impediment to the technology's adoption. 
"We're listening to filmmakers, and what we hear is they want more affordable entry points into XR filmmaking without sacrificing quality. Our new partnership, products and summer promotion shows our commitment to democratizing virtual production for filmmakers," said Jocelyn Hsu, Co-Founder, President, and Chief Product Officer at ARwall. "By providing cost-effective solutions that enable people to get started for under $200 and gear they already own, we are enabling filmmakers to embark on their virtual production journey today." 
Sample of Patents 
Rene Amador, CEO of ARwall
Cole Ratias, CEO of DoubleVision 
About ARwall 
ARwall is an award-winning XR technology and services company, leaders in virtual production (VP), software development and immersive AR experiences. Its diverse multi-disciplinary team comes from TV, VFX, design, mobile, games, and advertising. The company's production division incorporates its patented technology into a full range of VP resources, offering co-production, creative direction, project management, virtual/real set design, production, post and VFX. 
https://arwall.co/ | Linkedin | Instagram | Youtube 
Media Contact: Allison Dollar | Partnerships & Outreach | allison@arwall.co  
Press Kit: Sept 1 2023 Newsletter