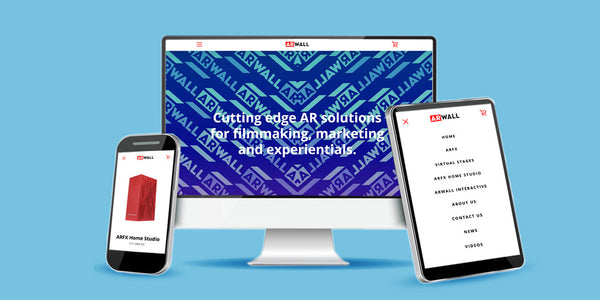 A Look Inside The New ARwall Website!
We're excited to announce the launch of our new website - a one-stop-shop to purchase our products, access product information/ requirements, book our virtual stage, schedule consultations, view our prior work, meet the team and so much more!
We've made some major changes to our site. Let's navigate it together!
Visit our home page for an overview of our proprietary technology and products. You will also find our clients and partners, accolades, and have an opportunity to sign up for our newsletter!
Are you curious to see how you can use our technology for your next production? Our ARFX page is likely to answer all of your questions. Also check out our case study to find out how we were able to cut costs by 62-73% on a major production.
Ready to get started? All of the information you need to book our virtual stage can be found here. We're also available for consulting if you prefer to design a custom stage.
No studio? No problem. ARFX Home Studio is our newest product for professional virtual production at home. Here you can learn more about the product and purchase your own system.
Our technology is not only for filmmaking. Learn how to enhance your brand and engagement using our technology for an immersive AR/ XR experience. Check out our case study on how M&M's used this technology at M&M's World Las Vegas!
Meet the team! Learn more about the people behind the technology.
Do you still have questions? Feel free to contact us via our contact form or email us for more information.
What is the industry saying about us? Check out some interesting reads from industry professionals.
If you would like to see more of our technology in action, we've created a few playlists for you.
Our Work: Virtual Production
ARFX Home Studio
ARwall Interactive & ARwall 3D
Promotional Videos
We encourage you to take a tour of our site for yourself. We hope that you find it informative, user friendly and adaptable to your needs!